That's right, have you heard of them? What the heck are they you ask? ADU's or Accessory Dwelling Units, or sometimes called "granny flats" or "granny pods" among other catchy terms, are just that, a unit or separate standing building located on the same parcel of land beside a larger single family unit, often inhabited by an elder adult(s). The Tiny House fad has had something to do with this rise in interest, but more importantly is likely the thought of the baby boomer generation wanting to take care of their parents and or live in them themselves to be near the grandchildren. It is an old concept which took on different forms such as garage apartments, or basement apartments in the past but recently the interest and demand has caused a growth of builders, or rather manufactures, to crop up around the country. Seems there are many different styles offering unique features mainly based on the special needs of an elder resident. Or units that can morph as the needs change for the one living in there.
This blog is going to be a three part series on this rising new form of housing unit. The more one investigates this new dwelling the more one realizes there is a lot to the subject. Not just the many types, styles and manufacturers and how intriguing they are, but, as any new concept, there comes with it controversy. Do neighbors want their next door neighbor to build another home in his back yard, potential lowering the values in the neighborhood? Is there going to be extra traffic or parking issues as more people are basically within one dwelling? Then will there be water and sewer issues because an existing development was only designed for the number of homes initially being built?
Below are a few sample pictures of these cute little, seemingly very purposeful but yet to be truly accepted and adopted dwellings. The next article will be about the many styles, features, listing of manufactures, purposes and uses. The final article in the series will address how society is processing the possibilities, and yeah it can be ugly for those who are slow to buy in. Call for more info if you would like to chat about these, after all their the new black and it's worth talking about - interesting huh?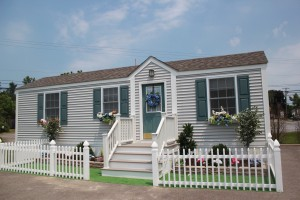 From ECHO Cottages
From FabCab
From MedCottages
Brand New From Dr. Bill Thomas's "The Minka"
An Actual Floor Plan from The Home Store
A native to eastern North Carolina, I moved to the Triangle to attend UNC Chapel Hill in 1979 and loved it so such I never left. I immediately realized the Triangle Area to be truly one of THE BEST pl....